Veterans Day Getaway: Cape Hedo
The last stop of our Veterans Day Getaway was the stunning jurrasic park-like view of Cape Hedo. The day was really glommy and rainy, and i don't think i could've chosen a more perfect day to visit. The cape faces the South China Sea on the West and the Pacific Ocean on the East. A friend told us that during the summer, when the tide is low you can walk the beach to those gigantic rocks. Which means we will definitely be making another trip there!
We also finally saw our first
Peace Pole
! These awesome little reminders were thought up in Japan(1955) and can be found in over 180 countries! There are a couple of these in Okinawa and yes, i plan on seeing them all! 😉
The cape has become a tourist attraction, both for it's geographic location, and for the monument erected there commemorating the end of US Occupation and the return of the Ryukyu islands to Japanese sovereignty during World War II. Of course i learned this in the internet because i cannot read japanese.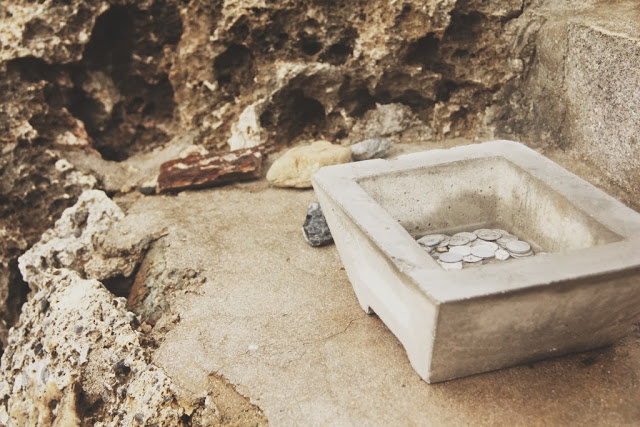 I believe these coin collection boxes are to offer prayers to what the Okinawans consider the 'god of the sea' or the 'umi no kami sama' and probably also to the 'god of the wind' or 'kami kaze'.
I told you that this last post was going to be breathtaking! I decided to edit my pictures using the Vsco Cam iphone app and they look extra magical! I wish i knew how to use photoshop!!
We feel so blessed to be able to enjoy the beauty of this island and to be able to share it with all of you! Thanks internet!