Things To Do In Okinawa, Japan: Summer Edition
Happy Summer ya'll!! After days and days of rain… the sun is out, the sky is blue (see what I did there?) which means summer is officially here! Even though I've already published a 101 Things To Do In Okinawa post, I really loved sharing seasonal posts as well; like my Things To Do In Okinawa: Holiday Edition and Things To Do In Okinawa: Spring Edition. So grab a cold drink and read through my list of things to do in Okinawa's longest/most popular season… SUMMER! *insert emoji with sunglasses here*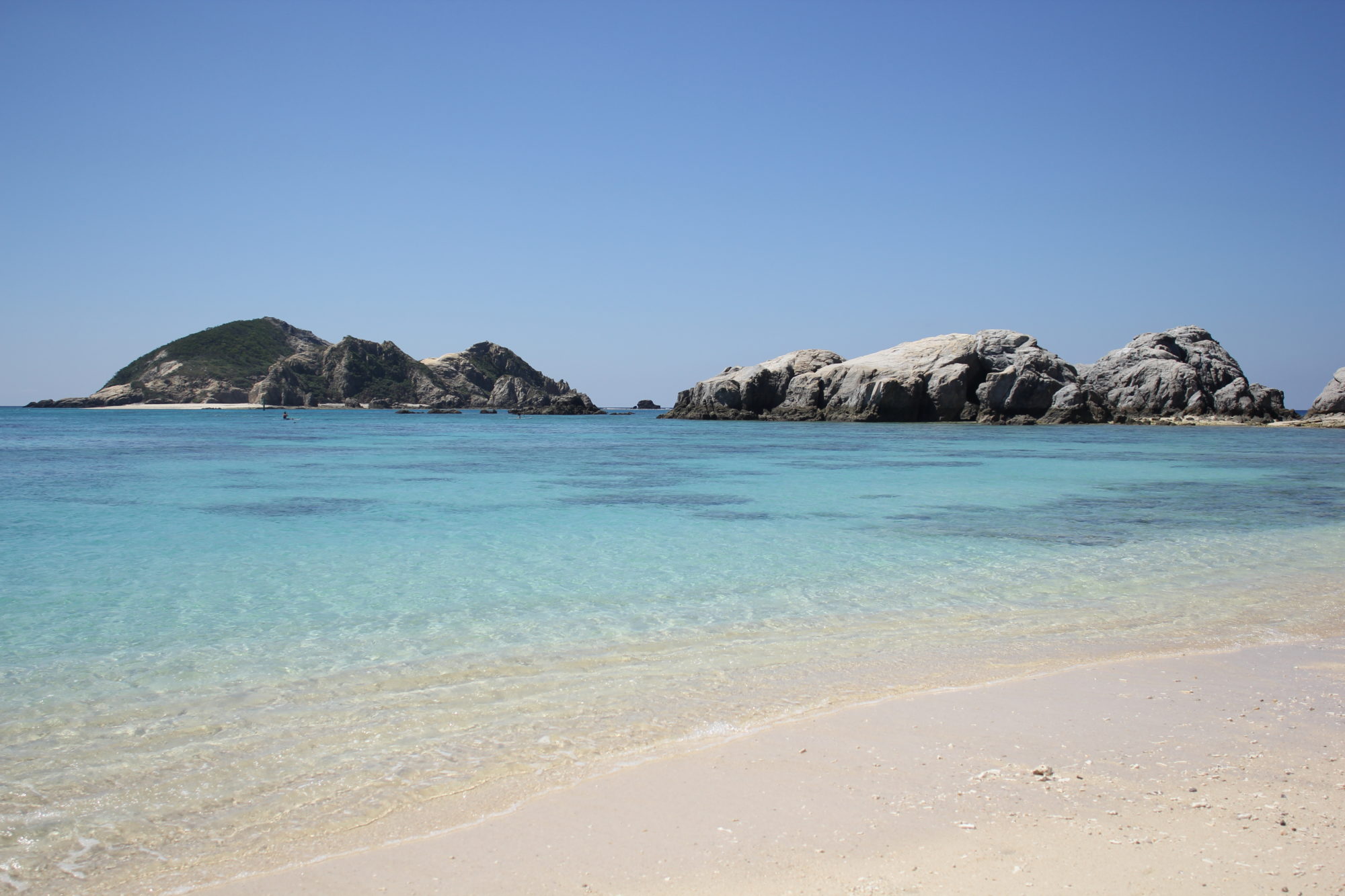 Pretty obvious right? Okinawa is known for having some of the best beaches in all of Japan!! So definitely make it a priority to visit the beach a million times this summer! Whether you like getting a tan or hiding in the shade with a cool drink, BBQ-ing, snorkeling or scuba diving, sea glassing, just go… the beach has something for everyone!
Wondering which beaches are my favorite? I'd have to say: Ikei Beach and Torii Beach (because they have restaurants/umbrellas/water activities) , Kouri Island (in my opinion has the clearest water in Okinawa), Uken Beach (because it's right down the road from us) and lately we've really liked Igei Beach by Camp Hansen (it's always empty and we can bring our dog no problem). I'd also recommend giving the obstacle course at the ANA Intercontinental Manza Beach Resort, check out Okinawa Clip for more info on it.
ANA Intercontinental Manza Beach Resort
2260 Serakaki, Onna-son, Kunigami-gun, Okinawa, 904-0493
Ikei Beach
〒904-2421 Okinawa Prefecture, Uruma, Yonashiroikei, 405
Torii Beach
Sobe, Yomitan, Nakagami District, Okinawa Prefecture 904-0304
Uken Beach
644-3, Uken, Uruma City, Okinawa Prefecture
Igei Beach
〒904-1202 Okinawa Prefecture, Kunigami District, Kin, Igei, 78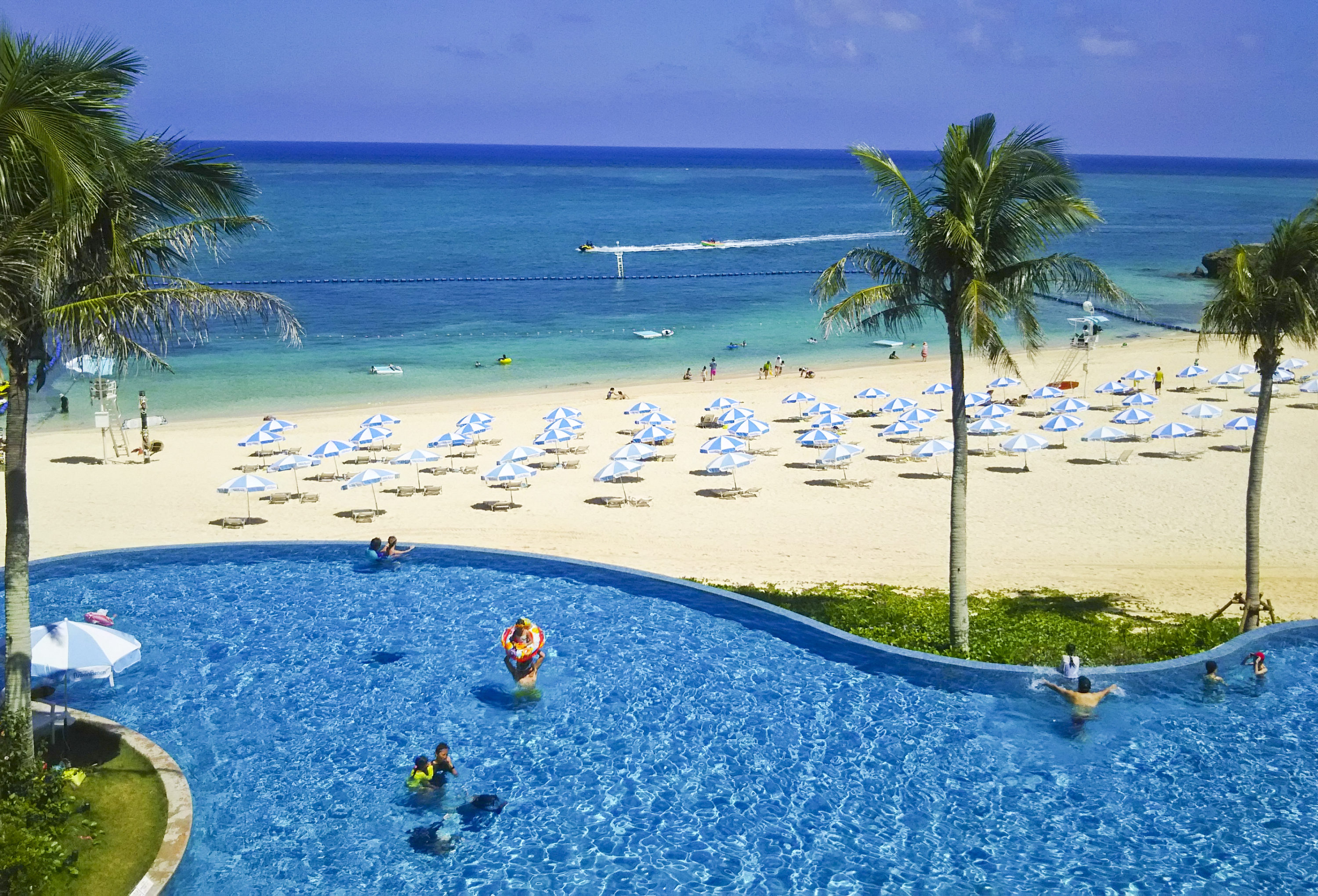 The hotels here allow for non-guests to use the beach/pool facilities, usually for a price. Hotel Moon Beach (pictured above) in Onna has a stunning infinity pool, as well as an indoor pool you can use for  ¥1,000. There are also several pools on island that you can pay to use, that are not in hotels. Comprehensive Park in Awase and Chula-U Onsen in Chatan are perfect for kids because they have slides and stuff! Here's a more detailed list on Japan Update.
Hotel Moon Beach
〒904-0414 Okinawa Prefecture, Kunigami District, 恩納村前兼久1203
*photo source
Comprehensive Park
〒904-2173 Okinawa Prefecture, Okinawa, Hiyagon, 5 Chome-3-1
Terme Villa Chula-U
2 Chome Mihama, Chatan, Nakagami District, Okinawa Prefecture 904-0115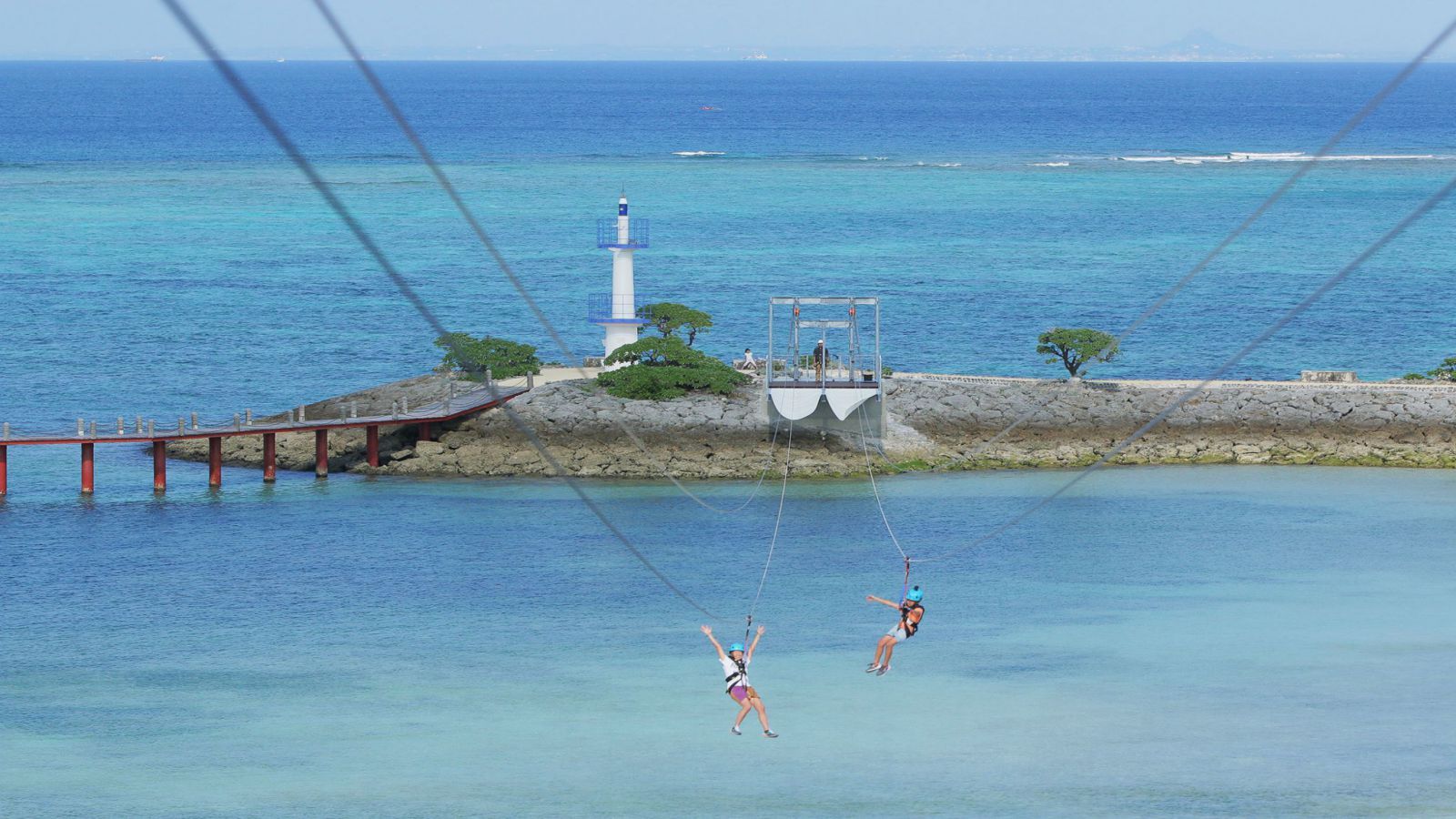 The Sheraton Sun Marina Hotel in Onna just opened a super fun over water zip line called MegaZip. According to their website you can "take off from the top floor of Nuchigusui, and enjoy the 230m ride across the crystal clear ocean. Landing is at the ocean promenade lighthouse. The ride is 230 meters long and the speed can be as fast as 30km/h".
Prices: Yen or Credit Card
MegaZip Zip line: ¥1,500
GoFall Quick Jump: ¥1,000
MegaZip/GoFall Set: ¥2,000
Sun Marina Hotel
66-1, Fuchaku Onna, Kunigami-Gun, Okinawa Japan 904-0413
See website for more info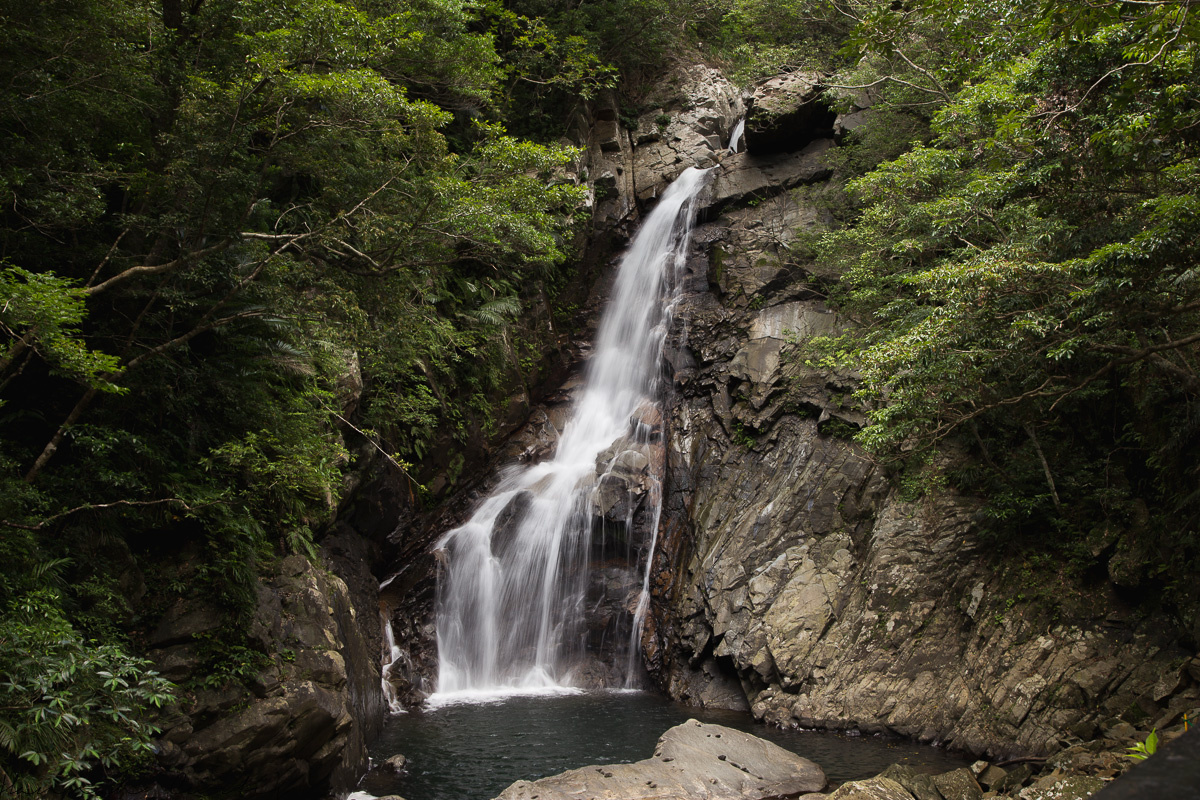 Another great Summer activity is going river trekking to some of the many waterfalls on the north side of the island. My favorite has got to be Tadake Falls (or Taa Falls) because it's super easy! When the temperature is above 85 degrees and the humidity is at 100%, there is nothing better than taking in the dip in freezing fresh water!! Hiji Falls is another popular choice.. but I believe you cannot go in the water (which sucks). Fukugawa Falls is another great one!!
Tadake Falls
〒905-0023 Okinawa Prefecture, Nago, Sukuta, 609
*photo taken by the amazing Hannah of Fun Flying Four! Also, go check out her post on Hiji Falls.
Hiji Falls
〒905-1413 Okinawa Prefecture, Kunigami District, Kunigami, Hiji, 781-1
Fukugawa Falls
〒905-1143 Okinawa Prefecture, Nago, 真喜屋2180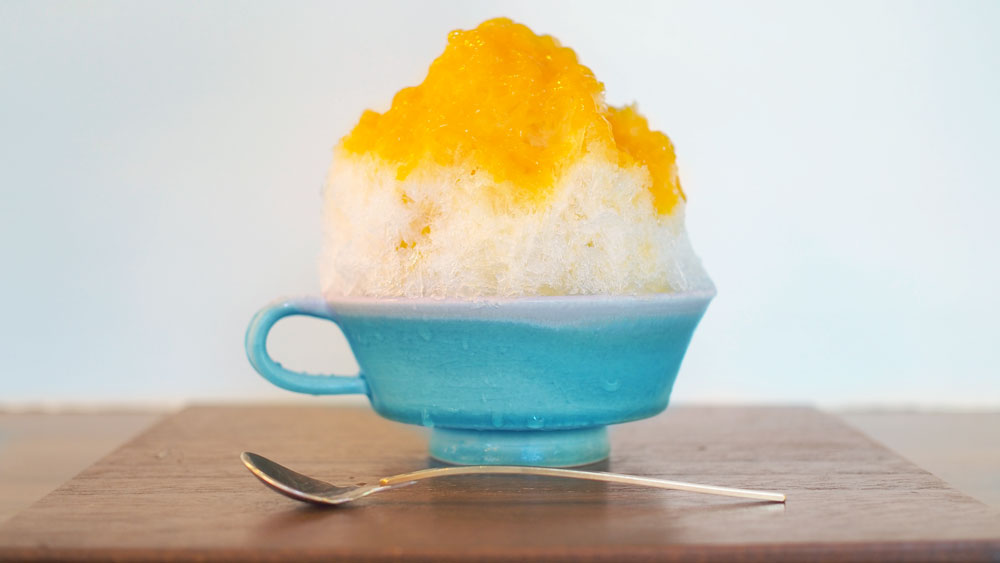 One of my favorite treats to eat when it's hot and sticky outside is kakigori or shaved ice! There's a very popular place about 5 minutes from my house that we frequent in the summer months, called Mother Leaf Shaved Ice (if you go, try the Japanese popular flavor with sweet beans!!). If you visit Ikei Beach make sure to get some at the restaurant before you leave!
Another place that has great shaved ice is inside the Onna No Eki market, which serves them with fresh fruit and a ball of ice cream!!! Definitely on my list of places to check out this Summer. The shaved ice pictured above is from Ruan + Shimairo on Miyagi Island (taken by the lovely Ashley of Forever Fernweh), I really really need to make it here this summer!!
Motherleaf Shaved Ice
〒 904-2201 Okinawa Prefecture, Uruma, Ishikawa Konbu 941
Hours: 11AM – 6PM
Ikei Beach
〒904-2421 Okinawa Prefecture, Uruma, Yonashiroikei, 405
Hours: 9:30AM – 4PM
Onna No Eki
1656-9, Nakadomari, Onna-son,, Nakadomari, Onna-son, Kunigami-gun, Okinawa 904-0415
Hours: 10AM – 7PM
Ruan + Shimairo
〒 904-2425 Okinawa Prefecture, Uruma, Yonashiro, Momoharamachi 428-2
Hours: 11AM – 5PM (closed Tuesdays/Wednesdays)

Unlike in the US where fireworks are used to celebrate New Years, in Japan they are used to ward off evil spirits and are an integral part of Japanese summer celebrations. There are several firework shows held all over the island during the months of July and August. The Ocean Expo Park Summer Festival held on Saturday, July 15th is a great one to experience, with a display of 10,000+ fireworks right over Emerald Beach in Motobu.
If you're in the area and looking for something else to do, you can rent bikes and explore Bise Village, just a minute drive north.
Ocean Expo Park
424 Ishikawa, Motobu, Kunigami District, Okinawa Prefecture 905-0206
Bise Village
〒905-0207 Okinawa-ken, Kunigami-gun, Motobu-chō, Bise, 本部町備瀬414
*photo source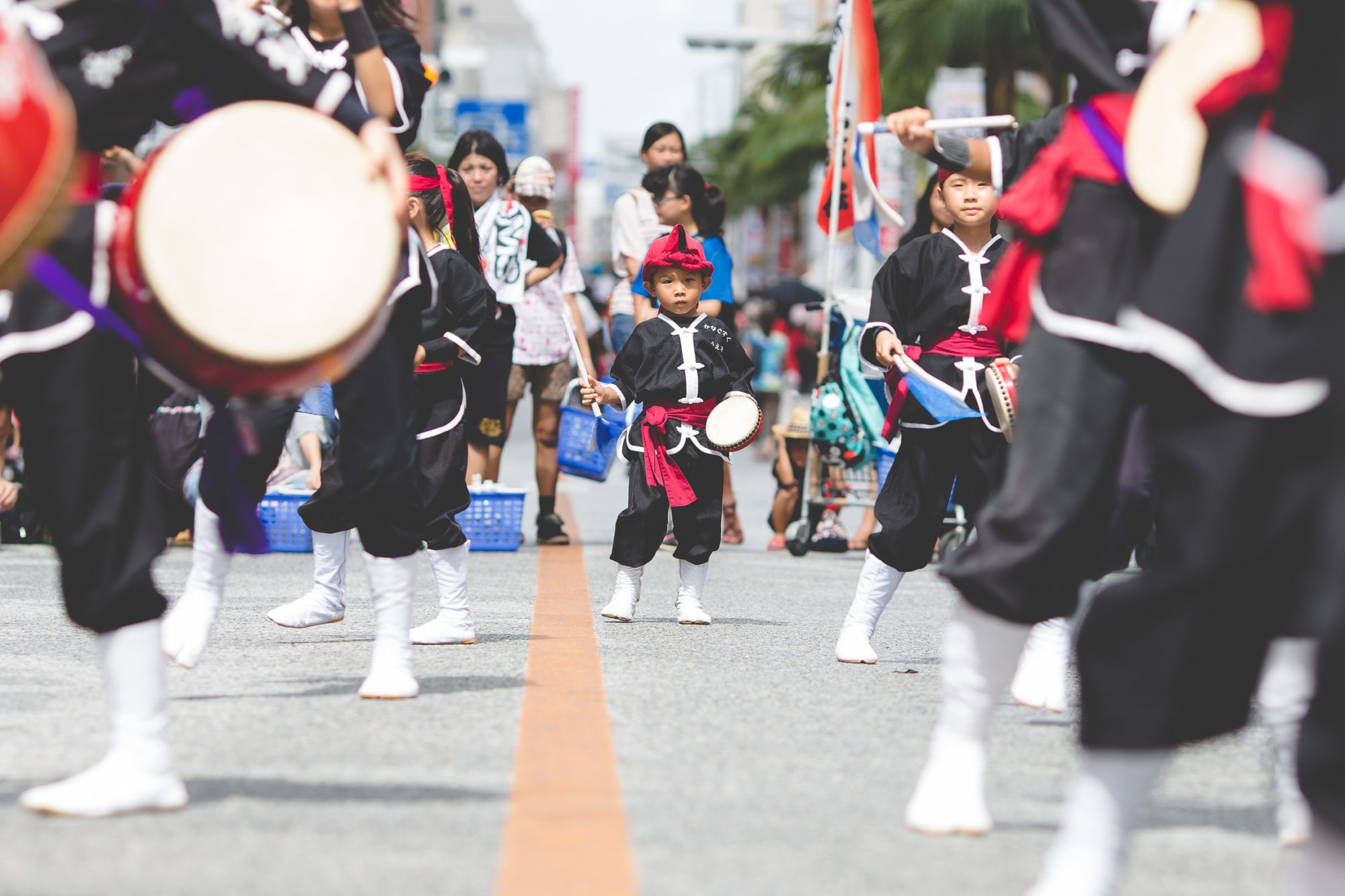 Obon, a Japanese Buddhist custom of honoring the spirits of one's ancestors, is celebrated during 3 days every July/August in Japan. Families get together to clean the ancestral graves in preparation for their visit to the land of the living. An integral part of Obon is the Eisa folk dance, performed by the young people of each community to welcome the spirits for their visit. In Okinawa, Eisa performances have become a part of year round celebrations/festivals.
In my almost 5 years on Okinawa I still haven't been to the 10,000 Eisa Festival at Kokusai Street! I'm hoping to go this year, because it may be my last chance to go! There are also other big Eisa performances like at the Orion Beer Festival, as well as smaller ones all over the island.
If you can't make it to the festivals, keep an eye out when you're off-base, because there are Eisa performances all throughout the island during the month of August.
Kokusai Street
〒900-0013 Okinawa-ken, Naha-shi, Makishi, 1丁目1
*photo by the amazing Hannah of Fun Flying Four! Go check out her 10,000 Eisa Festival post!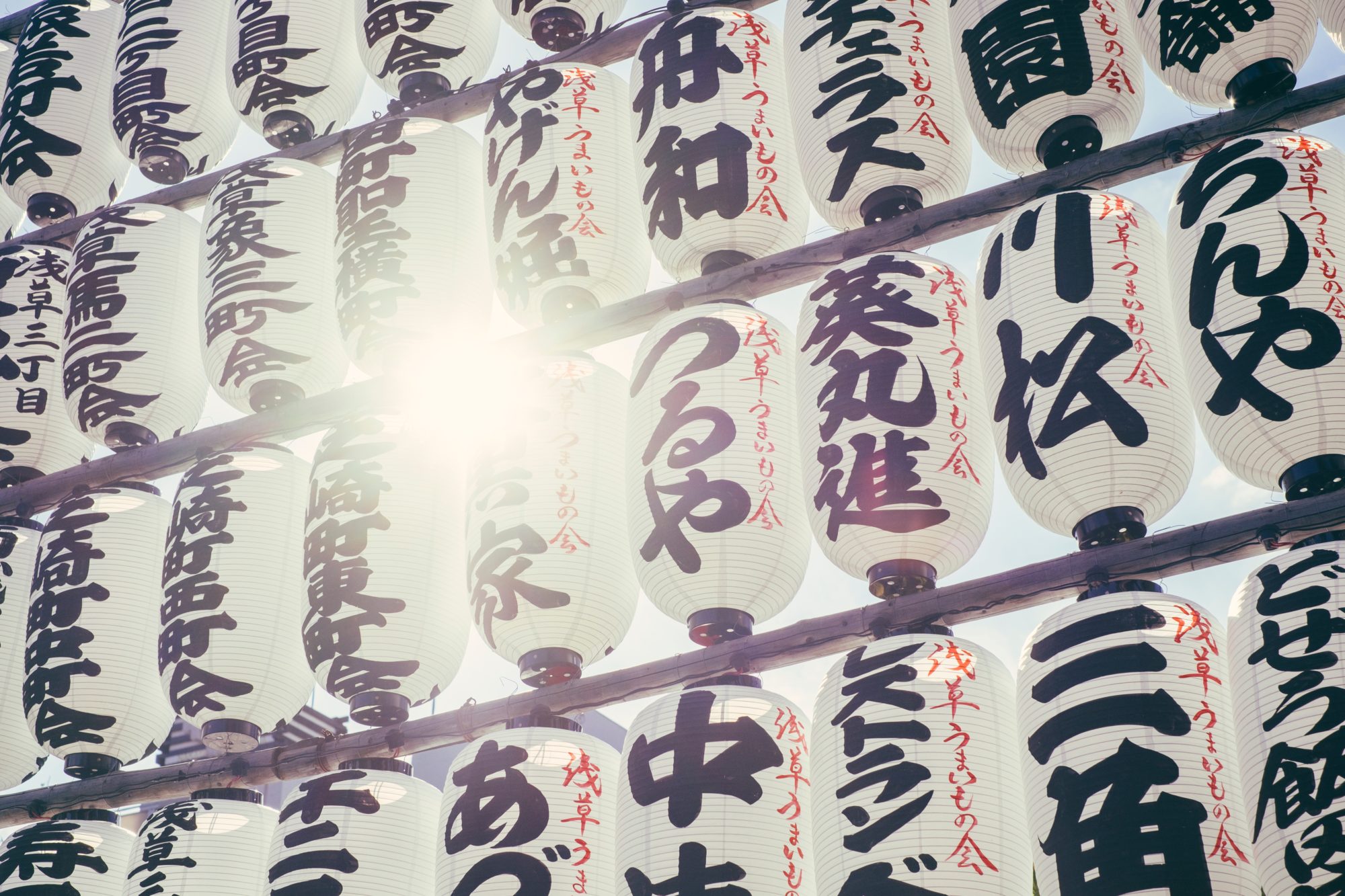 For those of you that don't know Orion Beer is Okinawa's local draft beer. The local brewery organizes a summer beer festival at Koza Sports Park in Okinawa City every year. Of course there is beer, food and Eisa performances, because the festival shares the venue with the All Okinawa Eisa Festival, the largest annual Eisa event on island.
Koza Sports Park
〒904-0032 Okinawa Prefecture, Okinawa, Moromizato, 2−1−1
*photo source
---
Anything else you would add to the list? Be sure to check out my other Things To Do In Okinawa lists!
Thanks so much to Hannah and Ashley for letting me use their awesome photos!