The Wedding Diaries: Reception
After getting engaged, besides the dress, all i could think about was our wedding reception. Every website i visited had the most unbelievably beautiful receptions and i never really thought i was going to be able to have that. But i did.
My mom and i decided to contact one of her amazing friends, an event planner,  and see if she would help us out with the planning. After a couple of months she decided to move from Miami to Puerto Rico, which meant she was going to be helping us full time; we were so excited! Of course after a couple of months we got the news about my husbands PCS to Japan and i was no longer in Puerto Rico for the rest of the months leading to our wedding, but she managed to make our reception a dream come true.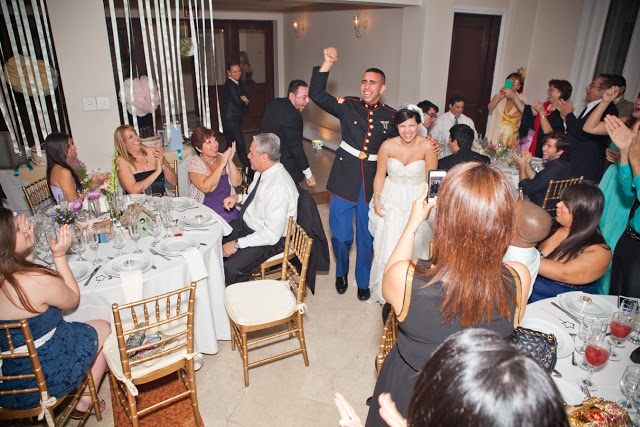 We entered the ballroom as husband and wife to "All you need is love" by: The Beatles (we are big Beatles fans). We were so excited to have the opportunity to celebrate our love with family and friends on this special night.
All eyes were on us during our first dance, we couldn't help but giggle and talk during the duration of the song. We slow danced to "Make You Feel My Love"s cover by: Adele, one of my favorite songs.
Our friends and family joined into our second song, "I Can't Help Falling in Love With You" by: Elvis. Although it was supposed to be the Ingrid Michaelson cover, we still enjoyed our second dance.
Our father-daughter dance was fun and quirky, everybody clapped as we boogied to "My Girl" by: The Temptations; of course mother-son joined in on the fun. Everybody wanted to join in, so they played the song twice, this time i danced with my bridesmaids while my husband danced with his best man.
My best friend (maid-of-honor), his best friend (best man) and his favorite cousin, gave the most heart warming speeches. We both laughed and cried … ok, let's be honest, i cried as the speeches went on about our relationship.
We decided to spoil our guests with a sweet bar full of delicious treats. Wedding cake, cupcakes, brownies, cookies/milk, lollipops, gumdrops, jelly beans and more; that served as our wedding favors. Can you tell we were having fun with it?
One of my bridesmaids had the awesome idea to surprise us with bridal flip-flops and boy was i thankful for it!! Our feet were happy to take a break from high heels. (btw, i married the funniest man)
Both of our bouquet and garter toss' were so much fun! Can you tell my husband had a blast? The DJ played "Party Rock Anthem" by: LMFAO before the garter toss and this man gave the most hilarious show. Definitely one of the most memorable part of the night.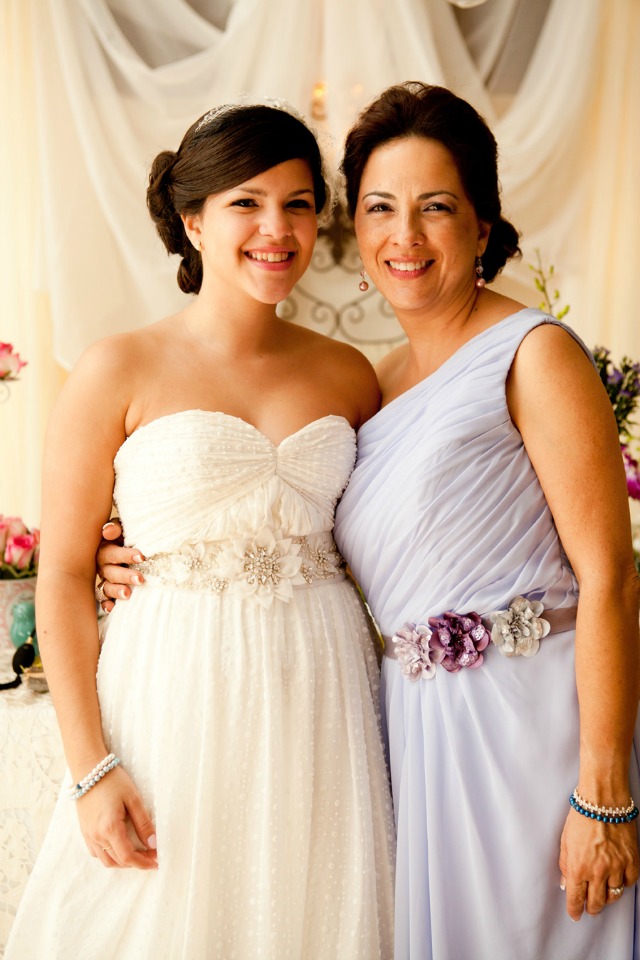 I would like to say that without this special woman this wedding would not have been possible. (Thanks mom for always being there for me and for all the help/support you've given me, i love you!)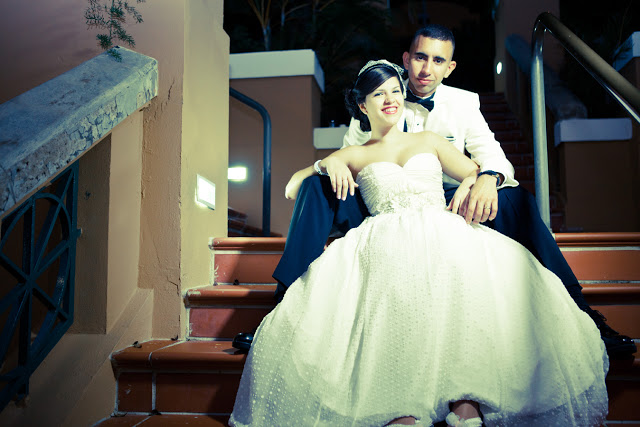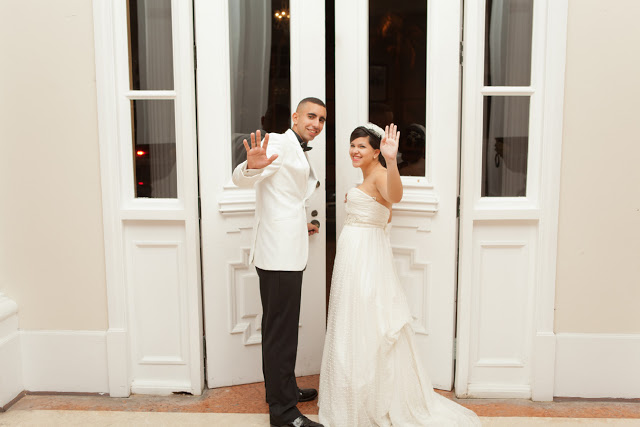 As the night went on we slowly said goodbye to our guests and made our way to our stunning hotel room at La Concha Resort. There was no honeymoon for us, because on Monday morning we had to travel back to Okinawa. Thanks for sticking around and reading our Wedding Diaries :).
Whenever we order our thank you cards, i'll make the last post of the series. Just in case you missed the previous wedding posts check them out: Saying Yes to the Dress, Will they be my Bridesmaids?, Bridal Party, Bride for a day, Ceremony, Photoshoot, Vintage Décor, Reception and Wedding Album.
Vendor Details
Photography: Javier Olivero
Wedding Planner + Floral Design: Gladys García
Hair + Makeup: Olga Martínez
Location: Casa Olímpica – Old San Juan, Puerto Rico
Bride
Wedding Dress – "Sweet Pea" by: Ivy and Aster
Sash – "Jade" by: Modern Trousseau
^^ both purchased at Sasha's Bridal Boutique, Miami, Florida
Birdcage Veil – Bellissima Bridal in Miami, Florida
Shoes – "Heart Grow Fonder" by: Seychelles
Nails – Mademoiselle by: Essie
Groom
United States Marine Corps – Dress Blues
White Tuxedo –  
Leonardo's
Bridesmaids
Dresses – Light in the Box
Groomsmen
Tuxedos – Leonardo's
Copyright Javier Olivero 2013. All rights reserved