The Wedding Diaries: Photoshoot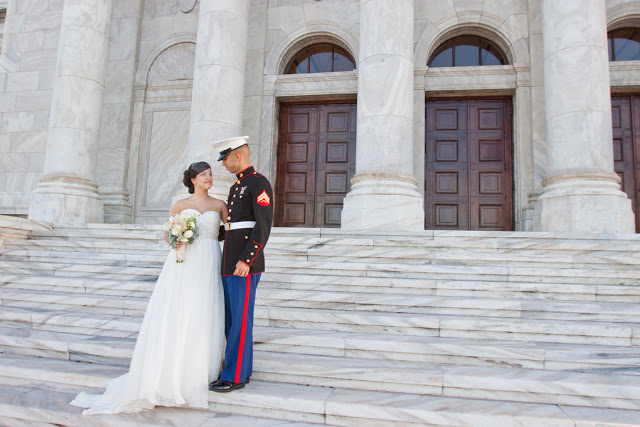 After our ceremony our guest made their drive to our reception venue, while we took pictures in two spots of Old San Juan. First we stopped at The Capitol of Puerto Rico where we took pictures in the beautiful marble steps and outside columns. Our second stop was the Spanish Fort called "Castillo San Cristóbal" where we took pictures in front of its historical walls and famous puerto rican garitas or "guerite" in english. We had so much fun shooting these pictures! I hope you enjoy looking at them as much as we did taking them!
Sadly we were unable to take pictures outside with our bridal/groom party and our families, because the sun was about to set after these pictures where taken. Thankfully we got plenty of pictures after the ceremony.
I was set on taking pictures in Old San Juan since the moment we started planning for a big wedding. I wanted historical sites, beautiful views and lot's of light. Our photographer nailed it! I am beyond happy with these photographs and i can't wait to receive my framed pictures in the mail.
Vendor Details
Photography – Javier Olivero 
Wedding Planner + Floral Design: Gladys García
Hair + Makeup – Olga Martínez
Bride
Wedding Dress – "Sweet Pea" by: Ivy and Aster
Sash – "Jade" by: Modern Trousseau
^^ both purchased at Sasha's Bridal Boutique, Miami, Florida
Birdcage Veil from Bellissima Bridal in Miami, Florida
Shoes – "Heart Grow Fonder" by: Seychelles
Nails – Essie (Mademoiselle)
Groom
United States Marine Corps – Dress Blues
Copyright Javier Olivero 2013. All rights reserved