Things To Do In Okinawa, Japan: Spring Edition
Happy Springtime! During the first few months of the year Okinawa becomes a magic wonderland full of all sorts of flowers and it's simply my FAVORITE time of the year!  I wanted to write down and organize all of the flower festivals / fields by month so you know which ones to visit and when.
Keep in mind that not every flower field will appear below, because new ones pop-up every year! Feel free to leave me a comment if you have any information you'd like me to add.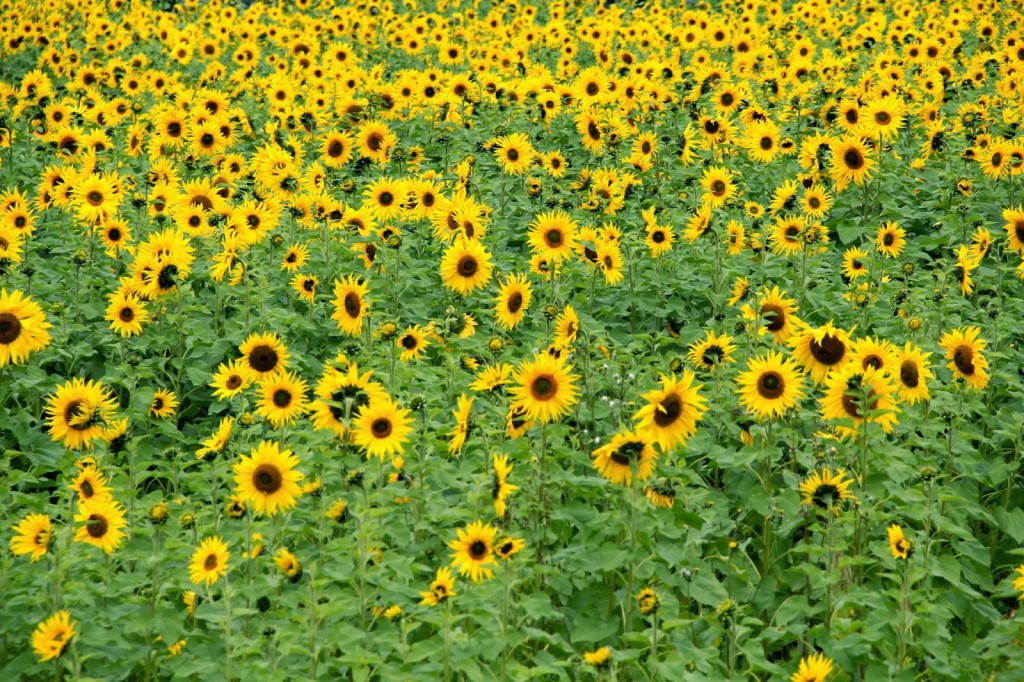 Sunflower Festival (ひまわりまつり)
They bloom late January, early February – but it varies annually. Kitanakagusuku has a huge field! The festival changed farms in 2015 and now there's an area full of flower vendors!
Address:
306 Kishaba
Kitanakagusuku, Nakagami District,
Okinawa Prefecture 901-2311, Japan
GPS: N 26 17.843E 127 48.622
Read more: Sunflower Festival 2013, Sunflower Festival 2014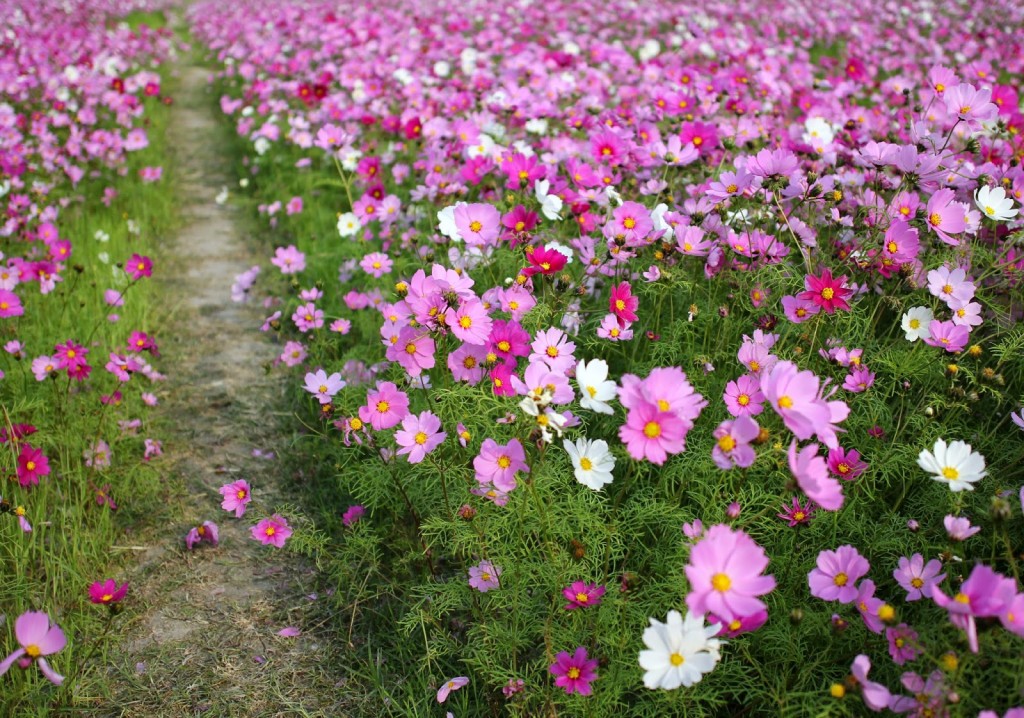 Cosmos (コスモス)
They bloom late January, early February. They can be found all around Okinawa, but Kin-Town, Yomitan and Nago have some nice fields. There is also one weekend where they have vendors at the field and you could take some cosmos bouquets home! Another field has been popping up all over Facebook and it has orange cosmos! I have yet to visit, but it looks equally as magical.
Address:
Kin-chō, Kunigami-gun,
Okinawa-ken 904-1202, Japan
GPS: N 26 27.506, E 127 52.792
Address:
151 Burikena, Nago-shi,
Okinawa-ken 905-1151
GPS: 26°37'10.4″N 128°00'28.2″E
Address: (orange cosmos field)
1914 Sobe
Yomitan-son, Nakagami-gun,
Okinawa-ken 904-0304, Japan
GSP: N 26.384524, E127.728591
Read More: Cosmos field in Kin-Town
Okinawa International Orchid Show
The award winning show happens around the last week of January/first week of February at the Tropical Dream Center, next to the Okinawa Churaumi Aquarium. I'm hoping to catch it next year!
Address:
424 Ishikawa
Motobu, Kunigami District
Okinawa Prefecture 905-0206, Japan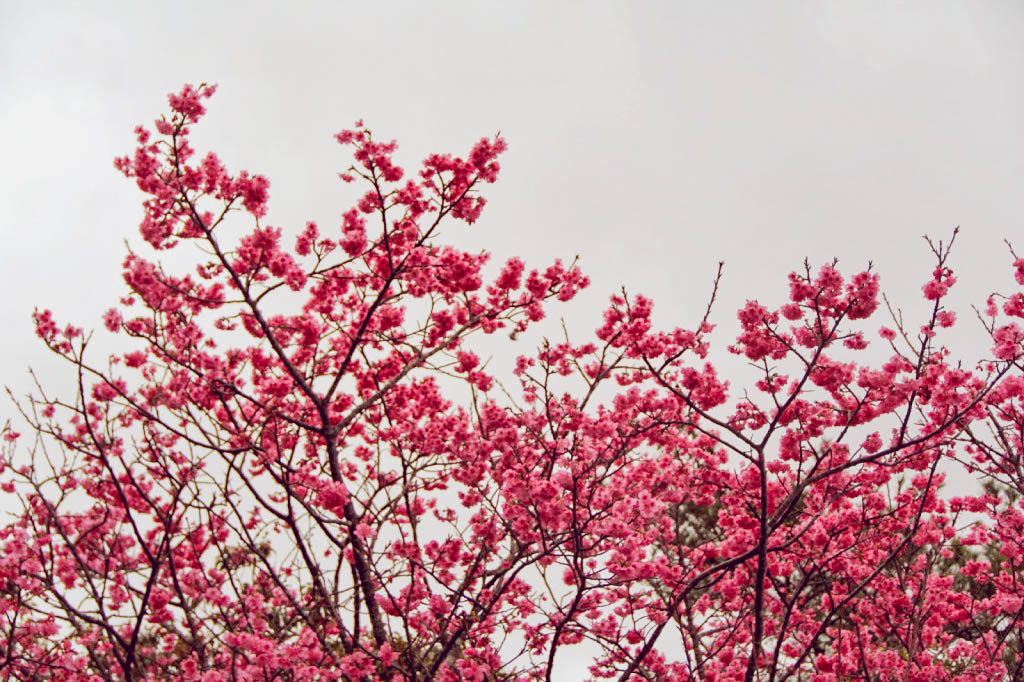 Cherry Blossom Festivals (さくらまつり)
Unlike Mainland Japan and the US, sakura trees start blooming around Mid January in Okinawa. The cherry trees are different from the ones in Mainland Japan and are said to come from Taiwan or China. There are many places to see these beauties, my favorites are at Nago Park and Yogi Park in Naha.
Addresses:
Naha Cherry Blossom Festival
1-1 Yogi, Naha,
Okinawa 902-0076, Japan
GPS: N 26.208275, E 127.692276
Yaese Cherry Blossom Festival
1607 Tomimori Shimajiri-gun, Yaese-cho
Okinawa 901-0402, Japan
GPS: N 26.131374, E 127.720496
Mt. Yaedake Cherry Blossom Festival
921 Namizato, Motobu-cho,
Kunigami-gun, Okinawa 905-0222
GPS: N 26 42.402 E 128 08.944
Nago Cherry Blossom Festival
2160 Nago,
Nago-shi, Okinawa 905-0012
GPS: N 26 35.245E 127 58.925
Nakijin Cherry Blossom Festival
5101 Imadomari, Nakijin-son,
Kunigami-gun, Okinawa, 905-0428
GPS: N 26 42.402 E 128 08.944
Read more: First Sakura Blooms at Yogi Park, Nago Cherry Blossom Festival
Bougainvillea Fair (ブーゲンビリアフェア)
The Southeast Botanical Garden hosts a Bougainvillea Fair the last week of February – the first week of March. These are my all time favorite tropical flowers! *Update: This year (2018) the fair is going on until April 2nd. 
Address:
2146 Chibana, Okinawa,
Okinawa Prefecture 904-2143, Japan
GPS: N 26 22'30.6 E 127 48'22.2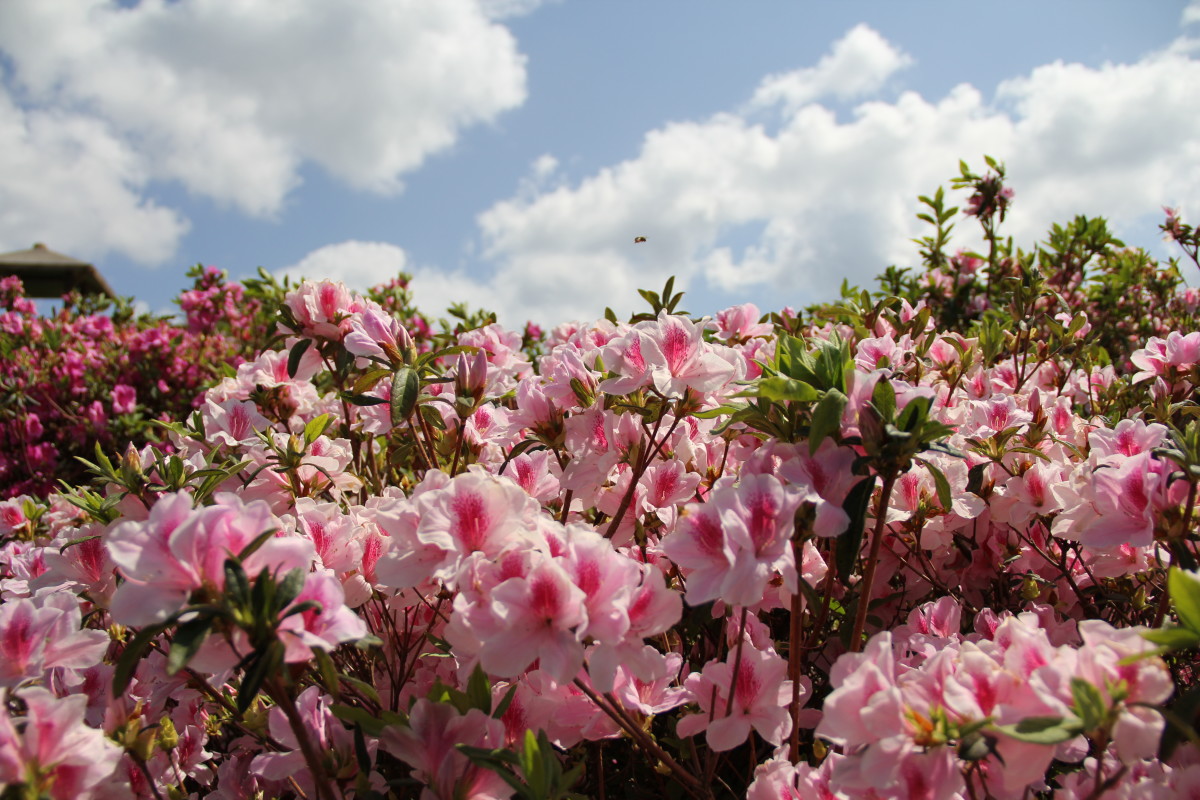 Azalea Festival (つつじまつり)
They bloom in March! The Higashi Village hosts the Azalea festival for 3 weeks, be sure to check out the 50,000 azaleas in a variety of pinks!
Address:
766-1 Taira, Higashi-son,
Kunigami-gun, Okinawa 905-1204, Japan
GPS: N 26 38.235E 128 09.413
Read more: Azalea Festival at Higashi Village
Okinawa Zoo & Museum Flower Festival
The Okinawa Zoo & Museum hosts an annual flower festival featuring 30,000 flowers of many different varieties. The festival goes on from late-February to mid-March.
Address:
5 Chome-7-1 Goya,
Okinawa, Okinawa Prefecture 904-0021, Japan
GPS: N 26.328294, E 127.803503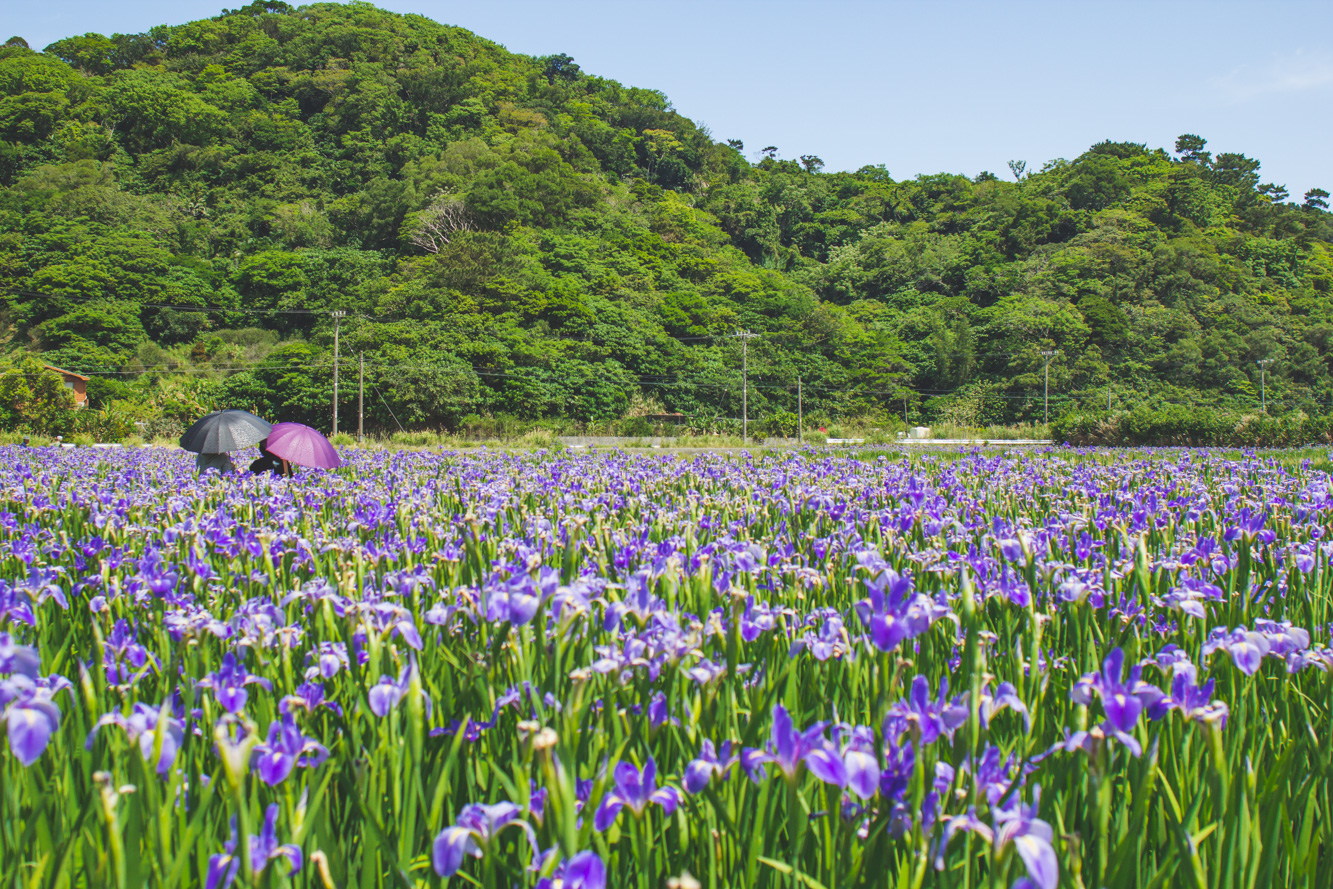 Iris (ショウブ)
They bloom in late March, early April and there is a great field in the Kijoka district of Ogimi Village.
Address:
1595 Kijoka, Ōgimi-son,
Kunigami-gun, Okinawa-ken 905-1303, Japan
GPS: N 26 42.402 E 128 08.944
Read more: Kijoka Purple Iris Field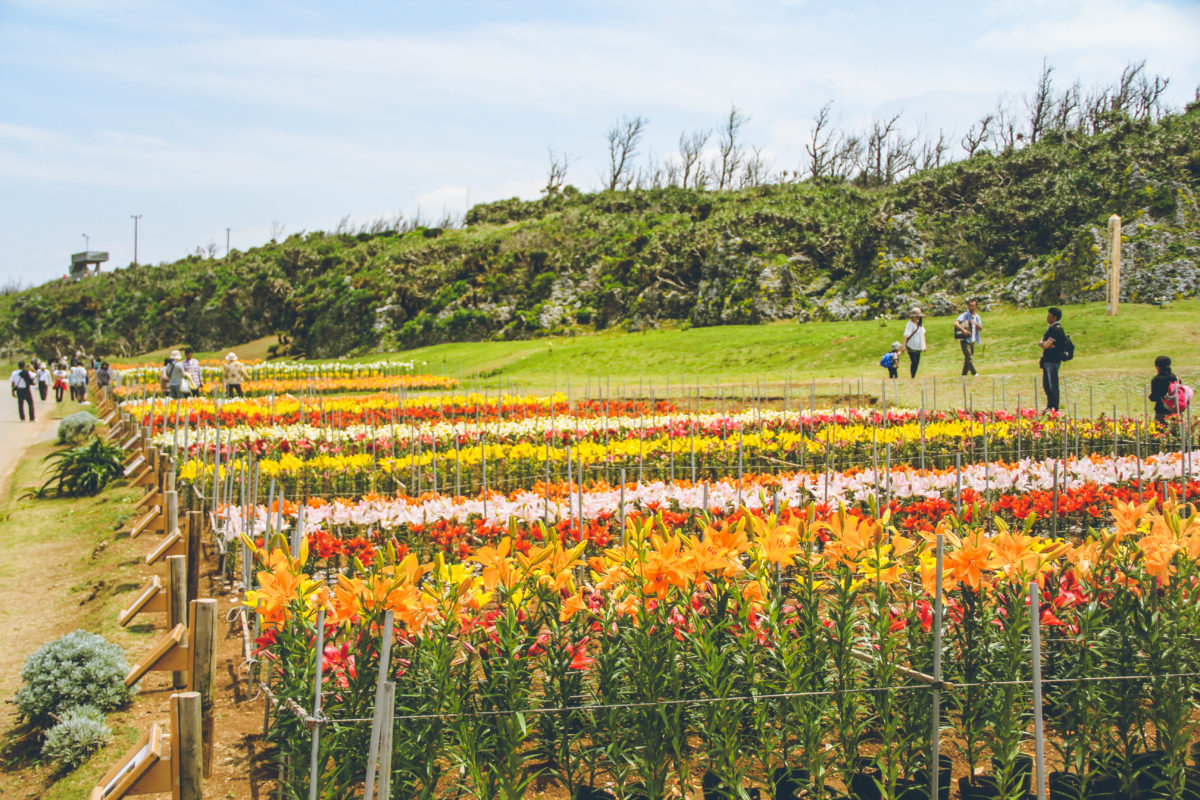 Lily Festival (ゆりまつり)
They bloom from late April to the 1st week of May. Ie island hosts the festival where you will see fields and fields of white lilies, as well as some colorful ones. Take the ferry at Motobu Port and enjoy a day trip to Ie island! Make a reservation for a car rental in advance, if they are booked there is a bus that will take you to the field. You can also rent bikes and enjoy all the different spots on the island.
Address:
Higashi Eue, Kunigami-gun, Ie-son 
Okinawa 905-0501, Japan
GPS coodinates:  N 26 44.309E 127 48.541
Read more: Lily Festival on Ie Island, Biking on Ie Island, YYY Resort – Ie Island.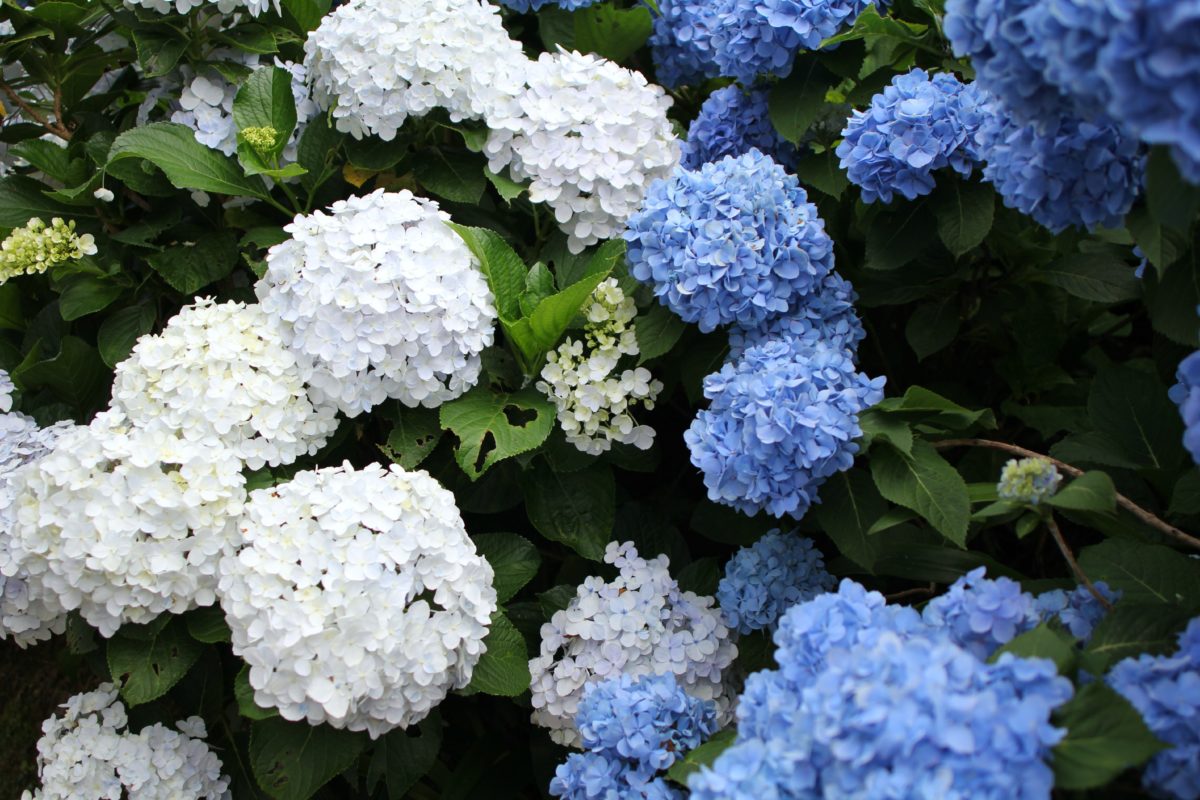 Hydrangea Garden (よへなあじさい園)
They bloom during Okinawa rainy season in end of May – early June. There is a gorgeous private garden in Izumi that is owned by Mrs. Uto Yohena, a 98-year-old who's been growing Hydrangeas in her garden for thirty years!! Make sure to bring an umbrella and rain boots if it's a rainy day! 
Address:
1312 Izumi, Motobu-chō,
Kunigami-gun, Okinawa-ken 905-0221, Japan
GPS: N 26 38.831E 127 56.707

Read More: Yohena Ajisai (Hydrangea) Garden
---
Also, no Spring in Japan is complete without some Sakura goodies at Starbucks!! Be sure to try their special drink and chiffon cake, and grab some pretty pink tumblers and coffee mugs! (Not sure when they'll be released this year.. but will update you when I find out!!) *UPDATE: Sakura goodies go on sale February 15th!