Cactus Eatrip + American Village
We haven't done much exploring since our trip to the Aquarium but on Saturday we had to take the husbands car to the shop to get the breaks replaced and we found ourselves driving around Camp Foster and American Village, looking to kill time. We had brunch at Cactus Eatrip Café, walked around the shops of American Village, as well as the PX and the Furniture Store on base.
Last week i met up with some girls from a Facebook group i joined before even knowing if i was going to accompany my husband during this PCS. The group "Okinawa Wives without Children" has been a blessing, everyone is always so welcoming and nice, they also plan lots of meetups which is really key to making this place feel like home. I mean moving to a new country isn't easy, you find yourself feeling lonely lots of times, even if you have your spouse with you. Us girls need "girl time", someone to talk to about anything and everything, and this group helps out so much. We had a great brunch date last monday and i met so many girls. It felt great.
Cactus Eatrip is a bagel shop, where they make their bagels and their creme cheeses from scratch. They also have coffee, hot and cold teas. The place has such an amazing vibe to it, its so quaint and perfect in every way. Sadly the bagels were so irresistible we didn't get a chance to photograph them.. but i promise next time i go i will share their masterpieces with you.
They had demo cds from local bands, and lil knick knacks everywhere.
Our walk through American Village made us so excited for their halloween festival!! The Japanese don't celebrate All Hallows Eve, but because of the amount of Americans here i think this is changing. They will have trick or treating in the shops and will also host a halloween costume contest (with cash prices).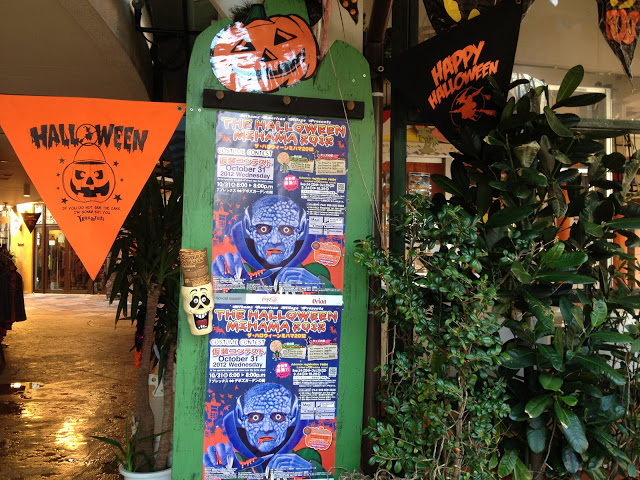 I love how they have gone all out with decorations!!
Only a week left 'til Halloween and i can't wait to celebrate our first holiday together ;).
Our costumes should be here this week, yay! We are so so so excited.
until next time,
xoxo