G tasted some leftover Pineapple wine from a girls night and he asked me to take him to Pineapple Park just to buy some more! Yes, it's that good. That weekend we drove with our friends to our favorite city, we enjoyed a gorgeous view, some delicious pizza and some wine! Remember Pizza in the Sky?! You  may have read about it over here, but this time we had a chance to take pictures and also to sit inside!
Pineapple Park wasn't all that, but man, that wine is the bomb!! 😛 It's so good that when we got home we finished the bottle with our dinner! We will definitely be going back for more! Q: Have you ever had Pineapple Wine? If you haven't you definitely must try it!
Now i would like to introduce you to two of my lovely sponsors this month! Be sure to click on through the links, check out their blogs and leave some love while you're there! 😉
Amanda is the awesome lady behind Niescior's Notes. First of all, you can get to know a little more about her, here or over here. This South African beauty daydreams about making the big move to the US, but for now her guilty pleasures transport her there even for just a little while. What am i talking about? TV Shows of course! This girl is Giuliana and Bill's biggest fan! Check out her website, The Rancic Army. This inspirational lady collected donations in October and even shaved her head in honor of Breast Cancer Survivors! She's been part of the blogosphere for only four months, so go ahead and visit her lovely site! Leave her some love while you're there :).
Check out her favorite posts:
-> How to Wear G by: GR Ultra Luxe Blazer
-> Who am I Actually Blogging For
Follow her on: Twitter | Facebook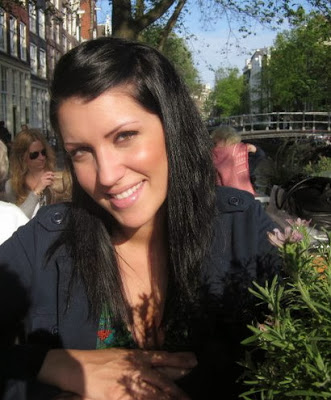 Margarita is the Canadian Super-Mom behind Hazel Daydreams. She's a wife, a momma of two and she takes pleasure in life's little moments, like enjoying the outdoors! She's even in the process of building her own house with the sickest view!! Want to know more about her? Go here or here! After blogging throughout her twenties, there came a time when she realized she had outgrown it, so she decided to start fresh and to embrace her unique niche. I love it when bloggers are raw, honest and just beautifully personal on their blogs. That is exactly what you will find on Hazel Daydreams! Margarita has also used blogging as a way to share her personal struggles with, post-partum depression and anxiety, in hopes of helping others. Check out her guide on beating these naturally!
Check out her favorite posts:
Follow her on: Twitter | Facebook
Want to be featured on Inspiration.Sparks? Read all about my budget friendly Ad Spots over at the sponsor page.